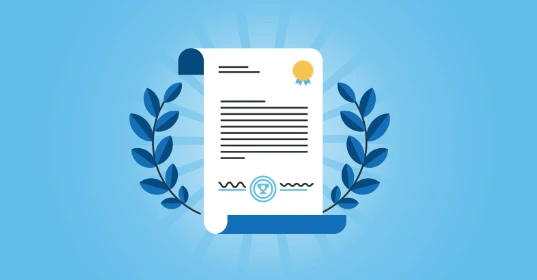 Are you interested in boosting your digital marketing skills and taking your career to the next level? Look no further! In today's fast-paced digital world, having a certification in digital marketing can give you a competitive edge. But with so many options out there, it can be overwhelming to decide which certification is worth pursuing. In this blog post, we'll explore some of the best digital marketing certifications available and help you choose the perfect one for your career aspirations. So buckle up and get ready to learn about the exciting world of professional digital marketing certifications!
Google Analytics Certification
There are many digital marketing certification programs available today. Google Analytics is one of the most popular and well-known certifications. Earning your Google Analytics certification can help you demonstrate your knowledge and skills in using Google Analytics to potential employers.

The Google Analytics exam covers topics such as understanding data collection and configuration, analyzing data, and creating reports. To earn your certification, you must pass the exam with a score of 80% or higher.

If you're interested in pursuing a career in digital marketing, earning your Google Analytics certification is a great way to get started.
HubSpot Inbound Certification
Inbound marketing is a methodology that attracts strangers and turns them into customers and advocates. The HubSpot Inbound Certification is a comprehensive training program that covers all aspects of inbound marketing, from attracting visitors to your website to closing deals and delighting customers. The certification is divided into four courses: inbound fundamentals, generating traffic and leads, converting leads into customers, and delighting customers.

The inbound fundamentals course covers the basics of inbound marketing and introduces you to the concepts of personas, buyer journey stages, and inbound marketing channels. You'll learn how to create content that aligns with your buyer's needs at each stage of their journey, how to use SEO to attract visitors to your website, and how to use social media to build relationships with potential customers.

The generating traffic and Leads course dives deeper into how to attract more visitors to your website and convert them into leads. You'll learn about different types of content that you can use at each stage of the buyer's journey, how to optimize your website for search engines, and how setting up conversion-friendly landing pages can help you generate more leads.

The converting leads into Customers course covers everything you need to know about nurturing your leads and moving them through the sales funnel. You'll learn about effective lead management practices, how to create email campaigns that nurture your leads, and how to score your leads so you can prioritize follow-up.
Hootsuite Social Media Certification
Hootsuite social media certification is one of the best digital marketing certification available today. It is a great way to show potential employers that you have the skills and knowledge necessary to effectively manage social media accounts. The certification process is simple and straightforward, and once you have completed the certification, you will be able to immediately start using your new skills to help grow your business.
Content Marketing Certification
Content marketing is a strategic marketing approach focused on creating and distributing valuable, relevant, and consistent content to attract and retain a clearly defined audience — and, ultimately, to drive profitable customer action.

When you become certified in content marketing through HubSpot Academy, you'll have the tools, templates, and training you need to plan, execute, and optimize an effective content marketing strategy of your own. Plus, you'll be able to prove your skills and knowledge to employers or clients.

Our Content Marketing Certification is free and includes 12 lessons that cover everything from developing buyer personas to writing persuasive calls-to-action. You'll also get access to exclusive tools and resources, like our Content Strategy Template Pack. Plus, once you complete the certification exam, you'll receive a digital badge that you can share on your resume, website, or social media profiles.
Digital Marketing Institute Certification
The Digital Marketing Institute is the leading global provider of digital marketing certification. They offer a range of online and offline courses, as well as certification programs, to help people upskill in digital marketing.

Their certification programs are globally recognized and cover everything from social media marketing to email marketing and web design. They also offer an Advanced Diploma in Digital Marketing, which is perfect for those who want to take their digital marketing skills to the next level.

If you're looking for a comprehensive education in digital marketing, the Digital Marketing Institute should be your first port of call.
Which best digital marketing certification for you?
There are many best digital marketing certification programs available, each with its own distinct benefits. The for you depends on your individual goals and needs.

If you want to specialize in a certain area of digital marketing, such as search engine optimization (SEO) or social media marketing, then look for a program that offers a concentration in that area. Likewise, if you have experience in another field such as traditional marketing or graphic design, consider a program that will allow you to leverage your existing skills and knowledge.

Some digital marketing certification programs are offered online, while others require attendance at physical locations. If you have a busy schedule or prefer to learn at your own pace, an online program may be the best option for you. On the other hand, if you thrive in a traditional classroom setting, then a brick-and-mortar school may be the better choice.

Finally, consider the cost of the program when making your decision. Some certifications can be completed for free, while others may require an investment of time and money. Choose the option that makes the most financial sense for you and your career goals.
Conclusion
Digital marketing certifications can be a great way to gain knowledge and experience in the field of digital marketing. Due to its various advantages, many professionals are engaging in getting certified in this field. We hope that this article gave you an overview of some of the best digital marketing certification available and that it will help inform your decision-making process when seeking out a certification program for yourself or someone else. With the right course and dedication, you too can become a successful digital marketer!